Joe Gaiter: What does football mean to you?
Van Norris: I would say, for me, it's a thank you to an aunt & an uncle I had. They enjoyed watching me play sports & supported me at all times. Of course I want to get better for myself, but some of that drive came from the support they offered me in the earlier stages of my life.
Joe Gaiter: When did you start playing this football?
Van Norris: I started playing football when I was around 8 I believe.
Joe Gaiter: Tell us about your highschool days back at East Kentwood?
Van Norris: If you looked at me in high school as an athlete, I'd be the last person you would think would be a college football player. I come from a high school of astounding athletes, so being average was even a grind at times. Facing an injury my junior year, I was never able to play a varsity game considering the following year I was nervous to ever play again. Out of all the players that received offers from my class, I am the only one still playing. In which it's been like that since 2016 I believe.

Joe Gaiter: Why did you go to Aurora University?
Van Norris: I came to Aurora simply because they were the school that showed the most interest. I was a guy who was attending community college and went out on a limb, deciding to record summer workouts and send them to schools. My path to college football is one that very few are willing to take. It was definitely a struggle, but there is always beauty in that. The one year that I was at a community college as strictly a student is where I found more drive within myself.
Joe Gaiter: What are your fondest memories of playing college ball?
Van Norris:. By far my fondest memory would be winning a conference championship in 2016. I've never been apart of winning a team accolade my entire career. This showed me how much everything I went through in the past was worth it. The most amazing day in my life up until this point, hands down.
Joe Gaiter: What are some of your stats?
Van Norris: Considering I've only played one complete season as a receiver in college, I think up until I have around 20 catches for 250 yards. I've made a lot of "big play" catches for my team when we needed them, in which I had no problem doing that.

Joe Gaiter: What would you say has been your biggest accomplishment as an athlete?
Van Norris: My biggest accomplishment as an athlete is the fact that I was able to get to the college ball level. I worked my butt off to get to this point. If someone told the high school me that I'd be playing college football I'd probably laugh and say you're crazy.
Joe Gaiter: What is your motivation?
Van Norris: My motivation is having a story to tell guys who are in my shoes. Just because you don't get a scholarship doesn't mean it was destined for you. Everything can't be handed to you, in which I feel a lot of that is the problem with some guys. Sometimes, as an athlete, we get things handed or given to us. It's easy to become comfortable like that. The earlier you get out of that train of thought, the better. You got to want it for yourself first.
Joe Gaiter: What is your untold story?
Van Norris: My untold story is one of perseverance, focus, and determination. While making my transition from community college to Aurora University, I encountered a lot of doubt. One of the most significant encounters came from a direct conversation with a previous coach of mine. The doubt created more of a will within me to reach the collegiate level. I knew I was capable of it, just needed to bring that side out of me.
Joe Gaiter: What is next for you?
Van Norris: Next, I will be attending Shorter University, where I will be pursuing my masters as well as playing my last two years of college football. I'll be heading down to Rome, GA in the fall and I am truly excited. I'm very thankful that I am receiving the opportunity to keep doing what I love.

Joe Gaiter: Where and with whom are you training with to stay ready?
Van Norris: Right now, I am training at a well-known faculty called Acceleration. Within my sessions, there are a lot of NFL & CFL guys who train there as well. It's great to be around them & work with them so I can hold myself to a higher standard. It pushes me more.
Joe Gaiter: Do you feel like you're the under dog?
Van Norris: In a sense, I do feel like the "under dog". Personally, I don't like calling it that, I just consider it not being my time yet. To be honest, I embrace this feeling. This is when one is really able to get in touch with themselves. So long as I'm getting a opportunity to continue my journey, I'll be working harder and harder.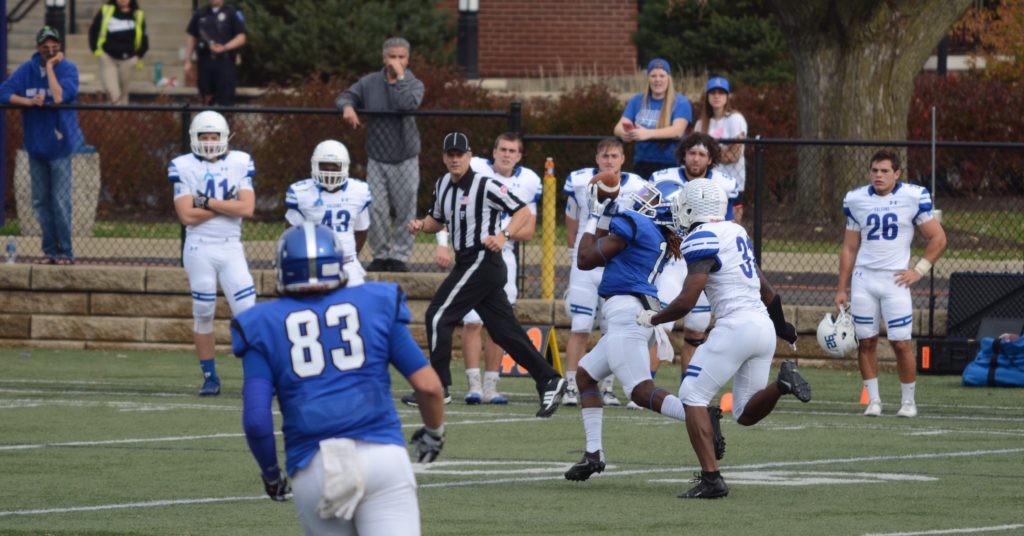 Joe Gaiter: Final Words?
Van Norris: I truly appreciate Gaiter Sports for the interview, it was a pleasure. Shout out to my homeboy Michael Miller, great guy and phenomenal basketball player. I've known him my whole life, and can say we definitely have been pushing each other since day 1.
Instagram: @hunchonorris