Joe Gaiter: What does football mean to you?
Marcus Albert: Football is a great sport and is the catalyst for schools and the community. As a young man, it teaches me a lesson I can only learn through playing this game. Football has really saved my life. It's bad now cause our culture teaches us to judge an activity by how it makes us feel at that moment but football does not work that way. This game of football challenges and pushes me to become stronger mentally to help overcome adversity. It .teaches me that I have to be comfortable being uncomfortable and requires me to be at my best at all times.
Joe Gaiter: What is your motivation for playing the game?
Marcus Albert: Football is everything. It's not about where you come from but about having heart. You have to be willing to give it everything you have. The game of football is suppose to be hard. It makes you tough and prepares you for the game of life. You have to play to it and understand why we're so mad after a tough loss because you work so hard to reach your goal. It's hard losing but it's great winning. You can be excited when you're winning but if you're down by 10 in the 4th quarter are you going to give up and call it quits or are you going to fight till the last whistle win or lose. My biggest motivation of it all is going through "The Grind".  There comes a time when workouts start to become repetitive and you have to find a way to push through it and hold yourself accountable. How you respond to the grind is all on you. It starts to challenge you more mentally than physically.
Joe Gaiter: Tell us about your season this year?
Marcus Albert:My season was pretty good. I finished 3rd on the team in tackles and had my name in the rankings in the conference for Tackles for Loss. I was selected to an ALL-MEAC conference team while helping my team go 12-0 and winning our 3rd MEAC title in 4 years. We were also able to win the HBCU national championship twice out of the last three years.

Joe Gaiter: Now I was at the Celebration Bowl. What was your team's mind frame coming in the game. Even though your team was undefeated, was it odd that you were still the under dog?
Marcus Albert:Coming into the game we were confident with the game plan the coaches gave us. We knew that if we went into the game and executed efficiently  like we knew we were capable of then we would win the game. They had a couple of playmakers on offense at quarterback in DeVante Kincade and at runningback with Martez Carter but as a defense we were determined to stop the run and force other guys around them to make plays. We live by a phrase where we say "we make chicken" meaning our formula for winning is simple. If we stop the run, protect the football and win the kicking game our chances at success sits pretty high. Heading into the game being an under dog was nothing new to us. We've been doubted plenty of times before. In the first Celebration Bowl that we played in against Alcorn State, they had us as an under dog so battling adversity was nothing new for us. The coaches and players that surrounds A&T are a special group of guys that all made a commitment to put this program back on top.
Joe Gaiter: What makes you ready for the NFL?
Marcus Albert:I'm a player that's more concerned about team success rather than self success. NFL teams will not find a more team based player than me. I'm willing to play anywhere coaches want me to for the betterment of the franchise.  I am the prototypical size already for NFL Strong Safety. Making the transition from college to the pros is demanding. I'm able to grasp the concept of the playbook quicker than others. My versatility, toughness and ability to make plays on the ball are some strengths that can put me ahead of those around me. I enjoy the process of getting better whether it's from film study to weight training or applying new techniques into practice. Coaches won't have to worry about my character as a player. I'm always punctual and where I need to be on time.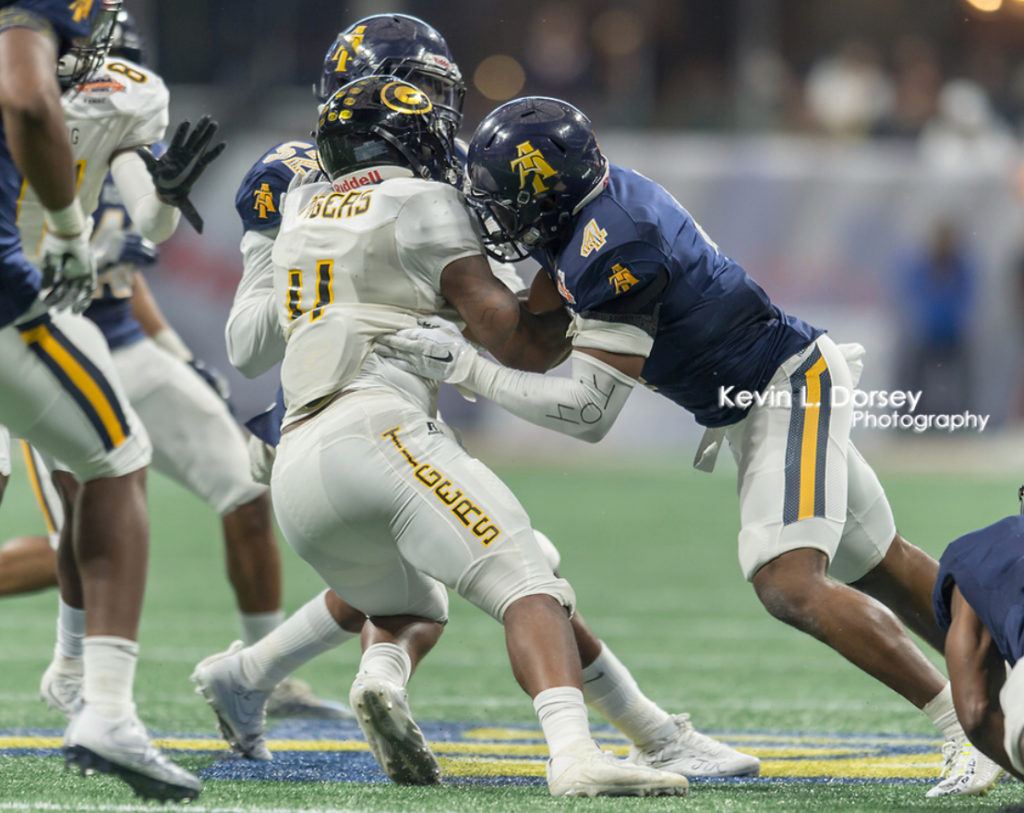 Joe Gaiter: Who is your agent and why did you chose them?
Marcus Albert:I have been in contact with a couple agents but haven't signed with anyone yet.
Joe Gaiter: Do you have any regrets over your college career?
Marcus Albert:I have no regrets at all. Being a 3 time MEAC Conference Champion, 2 time National Champion and winning 40 career college games, I would say I've had great success that some people would never even get to reach playing a collegiate sport.
Joe Gaiter: Describe yourself in 3 words.
Marcus Albert:Three words that describes me are Committed, Ambitious and Confident
Joe Gaiter: If you could go back to your freshman year, what would you do differently?
Marcus Albert:If I could go back to my freshman year I would have taken film study more important. Though I needed to watch film, it's a thin line in overthinking and just reacting to a play. Sure, there is an advantage to understanding your opponent's strengths and weaknesses but there is a phrase "paralysis by analysis." meaning that sometimes the best plays are just lining up and beating the guy across from you.
Joe Gaiter: What separates you from other athletes that play your same position?

Marcus Albert:I would say my versatility. I can play in the box as a linebacker and I can also line up on the perimeter and play in open field. My ability to be able to read and diagnose a play fast while recognizing the body language of Running Backs, Wide Receivers and the drops of the Quarterback gives me the extra key to react to a play faster than others would be able to do. During each play, I don't only know what my assignment is and my key reads but I'm also knowledgeable of those around me as far as their pass drops and fits in the run game.
Joe Gaiter: What was your biggest accomplishment?
Marcus Albert:My biggest accomplishment all took place during my senior season. We finished our season undefeated making us the first ever MEAC team to reach that goal. While doing so, I graduated with my degree in Pre-Law the week before going on to win a National Championship.
Joe Gaiter: Do you have a backup plan if you don't make it to the NFL?
Marcus Albert:My back up plan would be to apply for Grad school then to eventually obtain my Juris Doctor degree from Law School and work in the sports field as an agent.
Joe Gaiter: When is your proday?
Marcus Albert:There hasn't been a set date yet for my pro day but it will be taking place sometime late March between the dates of the 20th and 23rd.
Joe Gaiter: Where and how often are you training?
Marcus Albert:I am currently training back home in Atlanta at a facility called All In Performance with my two trainers Coach LeVon and Coach Lou. I am training Monday through Saturday twice a day.

Joe Gaiter: Final Words and Shoutouts?
Marcus Albert:I would like to shout out my parents for always being there when times were rough and believing me when others didn't. I would also like to thank every coach I've encountered because I can say I've taken something away from each of them. To my teammates I appreciate them for helping me build a bond a turning them into brothers. They pushed me to not become just a better player but also a better leader in the process of bettering myself.
Joe Gaiter: How can we find you on social media?
Marcus Albert:You can find me on Instagram and Twitter @_only1Marcus for the both of them.