Game Recap: Men's Basketball | | By Joshua J. Darling, Sports Information Director
MORROW, Ga. – Redshirt-junior guard Aubrey McRae (Augusta, Ga.) tied the program single game record for three-pointers to help power Clayton State (9-4, 7-2 PBC) past Lander (6-10, 2-8 PBC) in an NCAA Division II men's basketball game on Monday, January 15.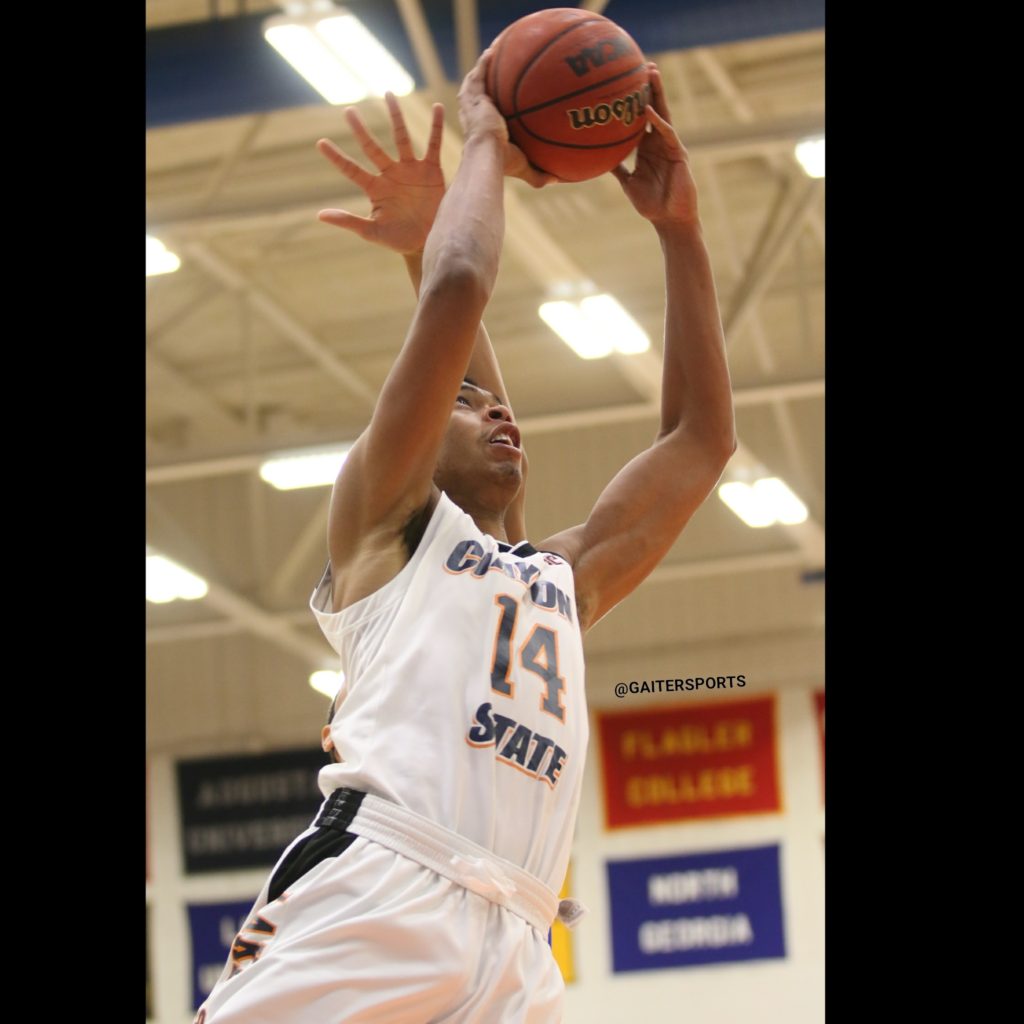 McRae bombed in seven of the Lakers 12 threes to tie the single game mark held by Saiquan Terry (twice) and Torrin Greene. That performance led to a career-high tying 25 points with five boards and three steals while junior forward Jaylen Taylor (Hephzibah, Ga.) finished with a double-double of 13 points, 10 boards and a pair of thunderous dunks.
Senior forward Denzel Council (Macon, Ga.) wasn't far behind with 11 points and eight caroms, and had a lob on one of Taylor's throw downs, and junior guard Justin Tuckson (Stafford, Va.) had 11 points, five assists and a career-high five steals in 26 minutes. Senior guard Dantez Bennamon (Goose Creek, S.C.) rounded out the top performances with 12 points on 5-of-8 shooting and four boards.

Clayton State would power out to a 20-8 lead by the 13:17 mark before a couple of buckets by the Bearcats made it an eight point margin a minute later. A 6-0 burst quickly pushed the lead back to double-digits at 26-12 but it wouldn't stay there long as Lander responded with an 11-4 run to cut it to 30-23 with five minutes left in the half. The teams would then head to the break with the score at 35-25.

With the margin cut to 37-27 over the first minute of the second half, Clayton State answered with a 16-5 run that buried the Bearcats right back in a 53-32 hole by the 12:17 mark. It would take much of the rest of the half, nearly 10 minutes, for LU to claw to within 14 points at 74-60 but they would get no closer as the Lakers used a 12-5 surge over the final 2:58 to put the wraps on the 86-65 victory.
Sidney Robinson led Lander with 14 points and was joined by Zane Rankin and Rahu Purdie with 13 and 10 points, respectively. Srdjan Ivic finished with eight points, five boards, two assists and a pair of steals and Sergio Smith added five points and seven rebounds.
The Lakers return to action on Wednesday, January 17 when they host North Georgia. Game time is set for approximately 7:30 p.m. following the women's game. After that game they will not be back at The Loch for 10 days as they play road games at UNC Pembroke and Georgia Southwestern.
NOTES
Torrin Greene sank seven threes against Knoxville on November 19, 2010 to set the current single game three-point record before Terry tied him twice in the 2014-15 season … he accomplished those on January 10, 2015 against North Georgia and February 18, 2015 vs. Georgia College … McRae equaled his career-high of 25 points set earlier this season against Augusta (12/30/17).