Dr. Joe Gaiter: What does football mean to you?
Calvin Harris Jr: It's my passion. I always ball for the love of the game.
Dr. Joe Gaiter: When did you first start playing sports?
Calvin Harris Jr: Before I can really remember. I think I was around 3 years old when I first started playing organized wee ball, according to Ma dukes. Baseball was my first love. Before I ever played football, it was all about baseball and basketball. Growing up I was always in pursuit of being better than my big brother, words that I often said to him. He would just simply say "show me". He was one of the best athletes that I ever saw play the game of baseball and football. He could throw with his left and his right (ambidextrous), one of the best switch-hitters you could've seen, fast, with that top notch QB swag. So, for me to become better than him I also wanted to play football. After getting my mom to agree to let me play football at the age of 7, that would start an undeniable passion that only football gave me.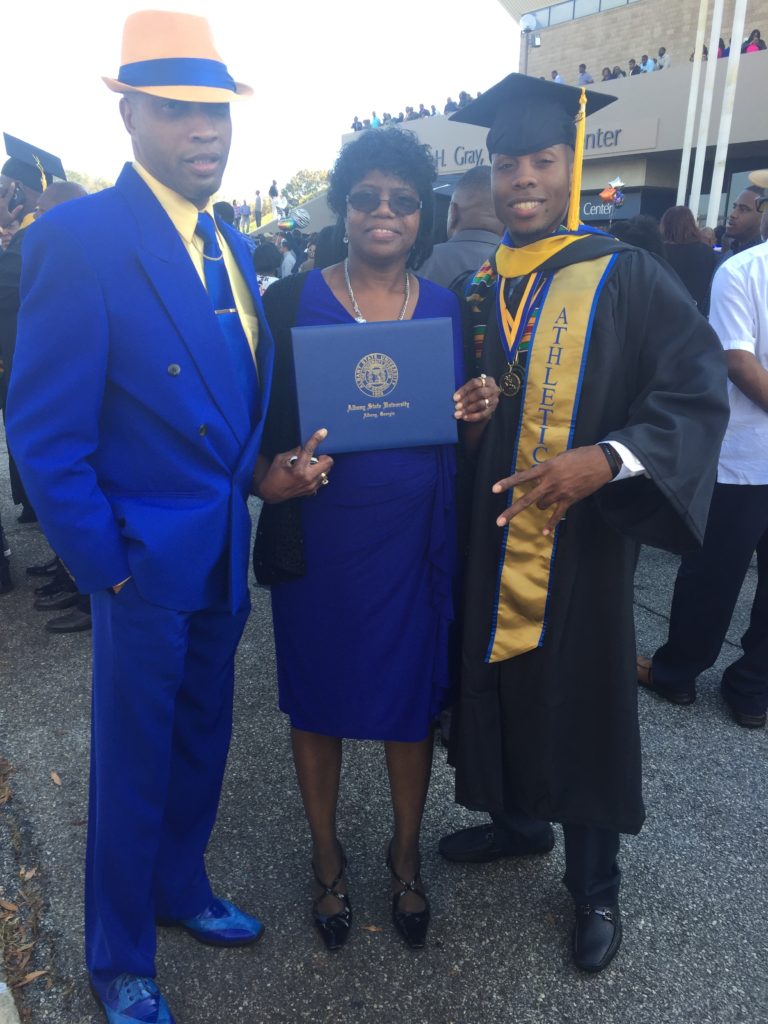 Dr. Joe Gaiter: How was your football experience at Albany State University?
Calvin Harris Jr: To simply put it, it was a continuous grind.
Dr. Joe Gaiter: Do you regret playing football at a HBCU vs. going to the other options you had at the time?
Calvin Harris Jr: I never regret anything because I am a firm believer in everything happening for a reason. Decisions I made when I was younger due to impatience and probably other young impulses, whether it was a mistake or not, I grew from it all. If God wants you to have it, the blessing will forever have your name on it. In my opinion, that's why it's not important to overthink or question the way things unfold in your life. There is certain timing and purpose attached to each and every circumstance that you face in life. When you start to build faith, you gain a confidence towards your life's natural course and direction. You feel humble knowing you truly realize that you're always in the process of becoming and that God always got you, no matter what.

Dr. Joe Gaiter: Currently you are playing for the Detroit Cougars in the RPFL. Tell me more about the RPFL and your role on your team.
Calvin Harris Jr: RPFL (Rival Professional Football League). It's said to be the D-League of the NFL and CFL. My role: Turn my side of the field into #HarrisIsland.
Dr. Joe Gaiter: Who were some of your childhood sports heroes?
Calvin Harris Jr: Montilius "Tego" Green (Big brother), Michael Vick, Allen Iverson, Deion Sanders, Michael Jordan, Peyton Manning
Dr. Joe Gaiter: What has been your biggest accomplishment as an athlete?
Calvin Harris Jr: For some reason, I never measured my accomplishments. To me they all hold their own significance. From my younger life all the way to my present life, they all were special moments that hold their own significance. When I was a little younger I once read that, "if you are still talking about what you did yesterday, then you haven't done anything BIG today". I adopted that statement as soon as I read it, because that was the way my mentality was set up already. I always told myself, "Always enjoy the moment but don't get stuck in it, because there are more moments to be created. I'm not where I want to be yet, the grind don't stop so on to the next."

Dr. Joe Gaiter: Tell me about your workout schedule. How do you keep fit during the off season?
Calvin Harris Jr: Lift, run, speed/agility work are the basics, but I like to mix it up from time to time. I may venture into other types of workouts such as calisthenics, boxing, ninja warrior type things, cardio based exercises, yoga, etc.
Dr. Joe Gaiter: What is your motivation in life?
Calvin Harris Jr: God, family, and just to be an inspiration to whomever I may inspire.

Dr. Joe Gaiter: What's the next chapter for you as an athlete and business wise?
Calvin Harris Jr: I really don't know at the moment but whatever it is I'm excited to see myself. I guess all I can say is stay tuned! #Pray #Push #Grind #G2G (GloryToGod)
Dr. Joe Gaiter: Do you have any regrets looking back over your life?
Calvin Harris Jr: Most definitely not. What is coming is better than what is gone. I believe that whether it was good or bad, it all makes you better if you let it.
Dr. Joe Gaiter: What do you want your legacy to be?
Calvin Harris Jr:  God, family, and that I was an inspiration to others. #SAI #PAN #Foolay4eva #4Ways #Dream #Believe #Achieve #Repeat #Pray #Push #Grind #G2G

Dr. Joe Gaiter: Final Words?
Calvin Harris Jr: Life is full of disappointments, failures, and setbacks. None of those things can permanently stop you. You have the power in you to overcome anything that life throws at you. There is nothing as powerful as a made-up mind. Surround yourself with people that remind you matter, and support you in ways that matter most to you. No person, situation, or circumstance can define who you are. Don't give up, cave in, or stop believing that it's possible. It's not over until you win. Something that I love to use is F.A.I.L (First Attempt In Learning). You can never fail at anything. All you can do is learn what not to do the next time you attempt. Keep failing until you come up with the final recipe for success. Success in life comes when you simply refuse to give up, with goals so strong that obstacles, failure, and loss only act as motivation. It never gets easier, you just get better. And never forget who put you on!…GOD. Make sure you go follow the #4WayMentoring and #LifeLeague page via instagram and facebook. #YouVsYouAlways #4Ways #Dream #Believe #Achieve #Repeat #Pray #Push #Grind #G2G #Foolay4eva #SAI #PAN